One of the things that makes Wrestlemania such a monumental event in the world of professional wrestling are the Special Guest that are a part of it. Sometimes it's clear as day that celebrities show up for a pay check & don't have much interest in being there. Other times it is quite clear that they want to be there & they love being a part of the extravaganza. It's not easy narrowing it down to fifteen & it's even harder trying put them in some sort of numerical order.
So many great celebrity guest, getting reprimanded for leaving someone out is inevitable. I mean Ozzy Osbourne was in the corner of the British Bulldogs when they defeated The Dream Team at Wrestlemania II for the WWE Tag Team championship. Elvira played along well at Wrestlemania II & I commend her for being a part of it. If the list were a top seventeen, they'd have been added. In this case, consider them both honorable mention.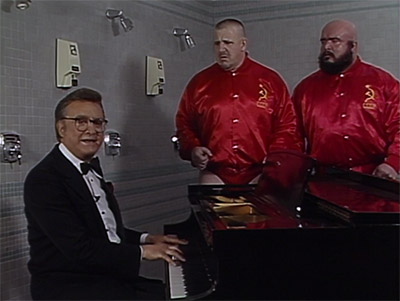 #15 - Steve Allen
Wrestlemania VI
I think the late Steve Allen's segments at Wrestlemania VI are often overlooked & not as appreciated as they could be. His jokes on the Bolsheviks & Rhythm n Blues were entertaining & comical.
#14 - Mike Tyson
Wrestlemania XIV
The whole buildup of Mike Tyson as the special guest referee for the WWE championship match between Shawn Michaels & Stone Cold Steve Austin was quite memorable. The Attitude Era was in full launch & seeing that Mike Tyson fit the image, McMahon announced Tyson with the expectation of a positive reinforcement from the audience. Instead as he made his way down to the ring, the audience erupted in a chorus of boos. To have Tyson start off as an unofficial member of DX & then to turn Stone Cold during the course of the match was brilliant. It got everyone over, including Tyson.
#13 - Tommy Lasorda
Wrestlemania II
If anything it seemed to me that Tommy Lasorda wanted to have a bigger role than what he got at Wrestlemania II. While some celebrities came in & did their part, Lasorda seemed a bit disappointed that he wasn't given more to do. I have to admire that.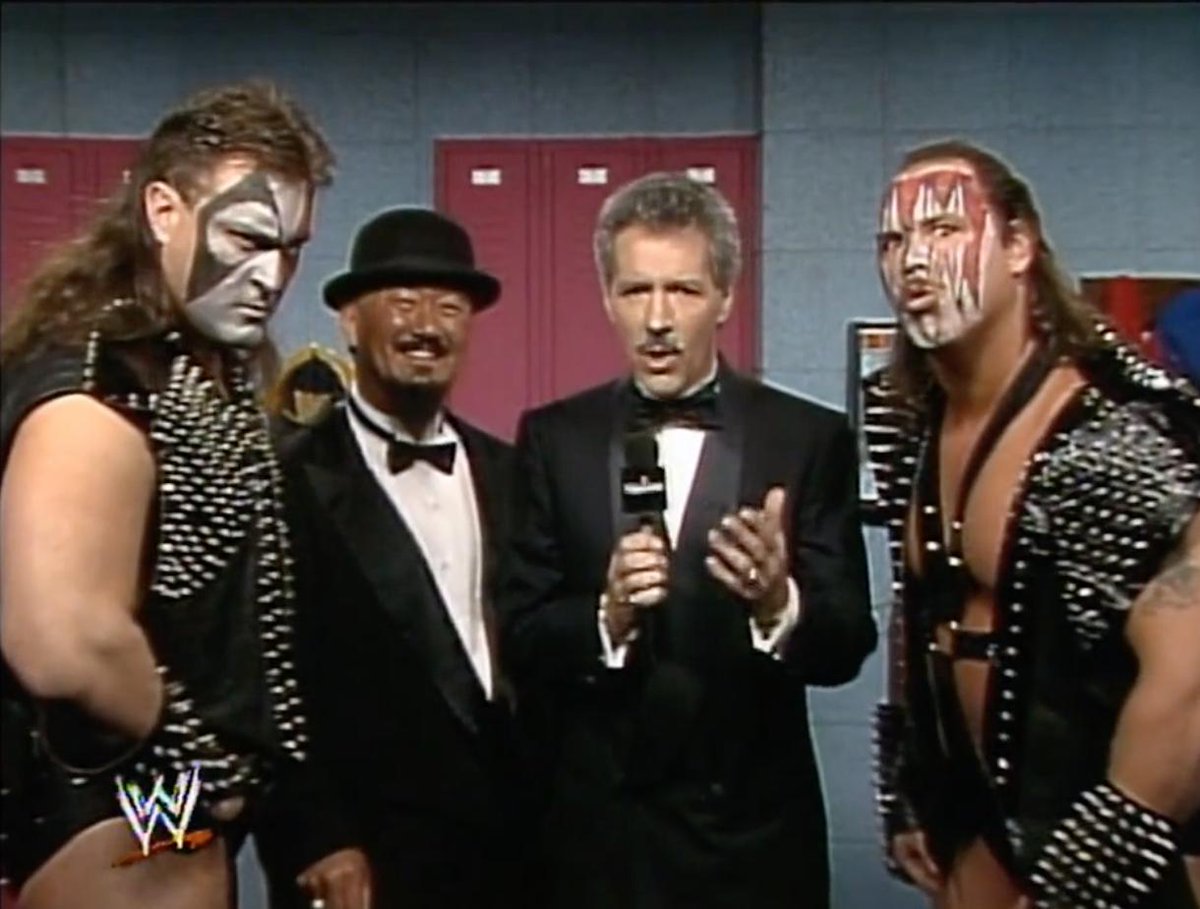 #12 - Alex Trebek
Wrestlemania VII
Seeing how proper & sophisticated of a man Alex Trebek is, one would think that he'd be the type to snub professional wrestling. Upon first glance it would appear that Trebek might be one of these "better than thou arts" who loves to throw around words like "fake" & "phony." Yet the Jeopardy game show host was quite the opposite, proving that assumption is often a foolish action. Trebek was into it & it was clear that he was having a good time. He later included WWE into categories within Jeopardy & spoke fondly of his experience.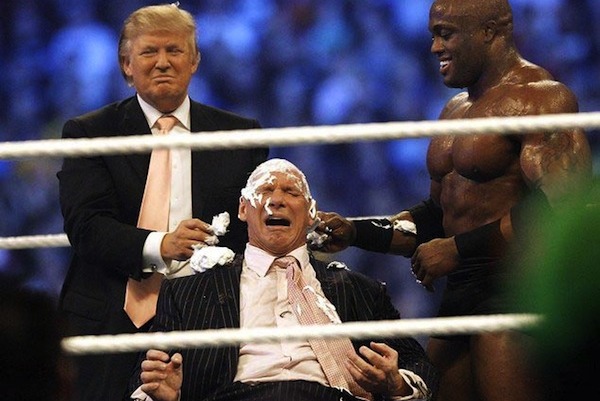 #11 - Donald Trump
Wrestlemania IV, V, VI, XX & XXIII
Love him or hate him, I'm not here to discuss his politics, his business, or his personal life. Those are all separate issues irrelevant to the topic at hand. When discussing the top guest at Wrestlemania, you have to include Donald Trump somewhere in the list. He hosted two Wrestlemania's in a row & wanted to do more. He showed up on his own dime & his own time at Wrestlemania VII & he had one of the most fun & entertaining segments at Wrestlemania XXIII.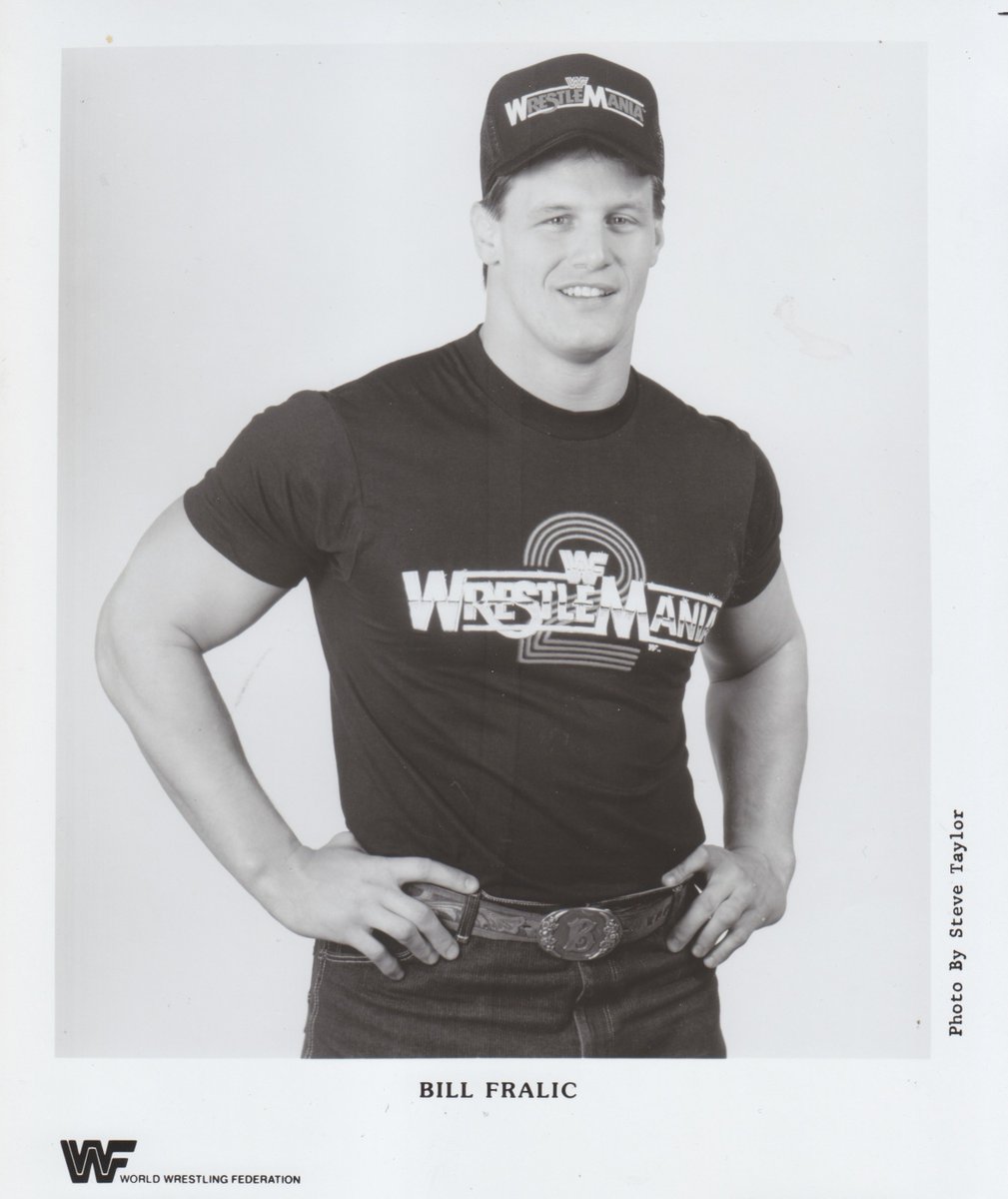 #10 Bill Fralic
Wrestlemania II
What I appreciated about Fralic's appearance at Wrestlemania II is that he treated it with the utmost professionalism. Sometimes what I hate about celebrity guest appearances in professional wrestling is that they try to be all clever that they're "in on the joke." They do things to expose the business & make us look bad. Fralic did just the opposite. He kept kayfabe & treated the situation as one should. As if it was a real competition. His feud with John Studd looked real & legitimate. Matter of fact looking back on it all these years later, I think Bill Fralic Vs John Studd in a high profile match could have been Lawrence Taylor Vs Bam Bam Bigelow before Lawrence Taylor Vs Bam Bam Bigelow. Fralic kept it real & for that he gets a ton of respect & admiration from me.
#9 Ray Combs
Wrestlemania VIII
The late Ray Combs always seemed eager to be a part of professional wrestling events whether they were WWE or WCW & he always seemed eager to have the world of professional wrestling on his television show
Family Feud.
It brings a tear to my eye to know that Combs' life fell apart & as a result he took his own life a short time later. I wonder sometimes if he would've been wise to have looked into a career in professional wrestling. I'm not sure if WWE or WCW would've had anything for him or not, but I think he could've done well in color commentary or interviewing wrestlers.
#8 - Lawrence Taylor
Wrestlemania XI
Like Fralic, L.T. did a great job of keeping it real & bringing a sense of legitimacy back into professional wrestling. WWE was in a trial period in the mid 90's & taking risks was a part of the territory. This could have been an absolute disaster, but thanks to Taylor's willingness to listen & learn & Bam Bam Bigelow's talent to guide, the match turned out exceptionally well. I would have given Taylor more time in the ring & had him train more. A lot of people who have never done professional wrestling don't realize the amount of conditioning that it takes to go out and have a match. Your body has to get used to being slammed, hitting those ropes & flying all over the place. As good as the match did turn out, had Taylor had more training, it could've been even better.
#7 - Alice Cooper
Wrestlemania III
Cooper's involvement in Wrestlemania III was fun, exciting & memorable. Even thirty-three years later, Cooper still looks back on the time with fond, "remember it like it was yesterday" memories. To hear him speak of his experience in such detail, telling funny stories is a real treat. My favorite of which was when 400+lbs King Kong Bundy got reprimanded in the back by the midget wrestlers after hurting Little Beaver. The idea of a man that outweighed four of them altogether hanging his head in shame & saying, "I'm sorry" is quite humorous. Admirable because Bundy was a man's man who would admit his mistakes, yet still humorous.
#6 - Pete Rose
Wrestlemania XXIV, XXV, XXVI, XX
How can you not include Pete Rose in a list like this? Rose was a team player all of the way & if baseball is going to continue to foolishly shame him & refuse to give him his due, I'm glad that professional wrestling will make up for it. For the sake of entertainment & to help pro wrestling get over, Rose didn't mind getting beat up & made out to be a fool. As often as he did it, he deserves his spot on this list, in the same way he deserves his spot in the MLB Hall of Fame.
#5 - Regis Philbin
Wrestlemania VII
Philbin was exceptionally good to professional wrestling. His respect & love for the business came out in everything that he ever did for it. The only person I can think of that gave more time & publicity to pro wrestling during this time was Arsenio Hall. Ironically enough (as well as unfortunate) Hall never made an appearance at a Wrestlemania, although he should have. As to Philbin he had wrestlers on
Live with Regis & Kathie Lee
all the time. Ultimate Warrior, Hulk Hogan, The Giant Gonzalez, Earthquake, Mr. Perfect & so many others. It was clear that Regis loved being a part of Wrestlemania. His excitement & enthusiasm were contagious. I wish that he would have been a part of more.
#4 - Mr. T
Wrestlemania I & II
He's the only non-wrestler to ever make the cover of a Wrestlemania poster. While some of the wrestlers weren't keen on T's involvement, there's no denying that it had a lot to do with Wrestlemania's initial success. He was a large part of the show & played his part quite well. Despite any problems or opinions resulting, that cannot be overlooked or denied.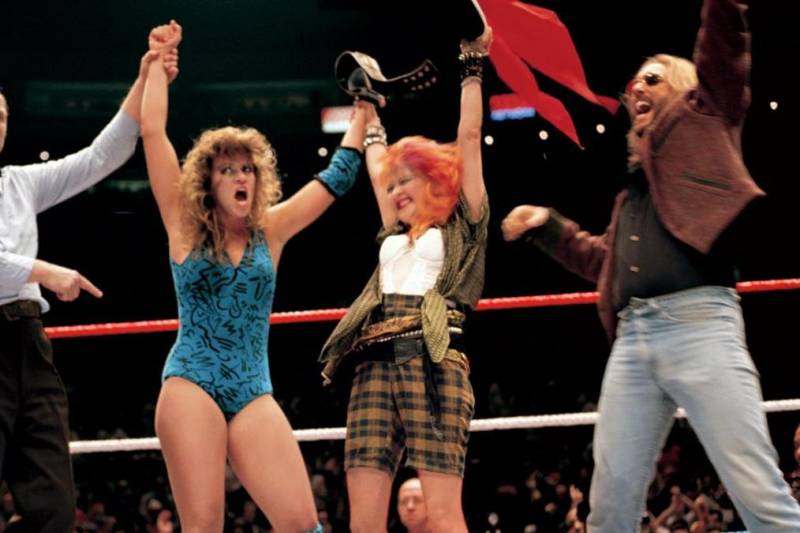 #3 - Cindi Lauper
Wrestlemania
I thought Lauper did such a great job at Wrestlemania that if she had wanted to, she could have became the female version of Jimmy Hart. Hart after all began life as a musician, the lead singer of the Gentrys. He had a hit & appeared in an Elvis Presley film before becoming pro wrestling's "Mouth of the South." Lauper I feel could have had a similar career. Probably as a face instead of a heel, but still a similar career. She ate up her roll & did a great job at Wrestlemania. Including pro wrestlers in her music videos & promoting the business helped WWE to soar to heights that it might not have otherwise.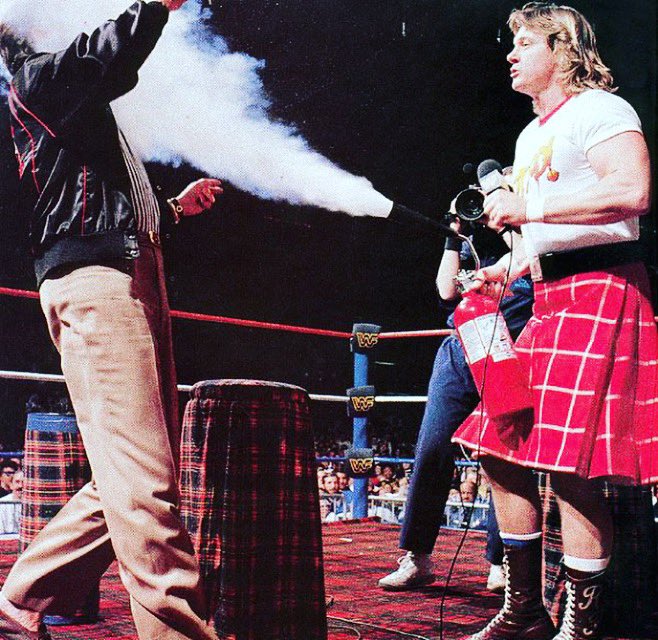 #2 - Morton Downey Jr
Wrestlemania V
I really have to admire Morton Downey Jr for his involvement in Wrestlemania V. While most celebrities want to come out looking like the hero, Downey wasn't afraid to make himself look like a total jackass. For the sake of a huge pop from the crowd & getting Roddy Piper over, in playing the role of a "heel", Downey goes down in my book as one of the best celebrity appearances in Wrestlemania history. To further my respect for the late Mr. Downey, I admire how when professional wrestling was under attack & made out to be a joke, Downey went out of his way to feature it on his show. He gave it the realism & legitimacy that it needed. WWE likes to act like the United States during a war time as if it did it all on its own & sometimes it forgets the United Kingdoms, the Frances, & the other allied powers. It was a tag team effort & Downey was a member of the team.
#1 - Bob Uecker
Wrestlemania III & IV
Here's another guy I feel could have been a permanent fixture in professional wrestling. Uecker did a great job at both Wrestlemania III & IV. I only wish his involvement could have been bigger. Throughout the years I was always hoping that he'd come back & do another Wrestlemania. While I'm happy he was inducted into the Hall of Fame, I do feel that upon his career in baseball & his career in Hollywood, that his time in pro wrestling could've been more.